How to install a Polish keyboard on MacBook?
General questions
Polish
Please tell me again how to make my keyboard on here POLISH?
Maybe this is where you told me before!
1 answer
answered by
Pawel
published
17 days ago
Hi Ania,
In order to install a Polish keyboard on MacBook you need to go to Settings, click Keyboard and then choose Input Sources. You should see something like that:
Then click the Plus button as indicated above, find Polish language, choose Polish - Pro version and click Add.
This is how it should look like just before installing Polish keyboard: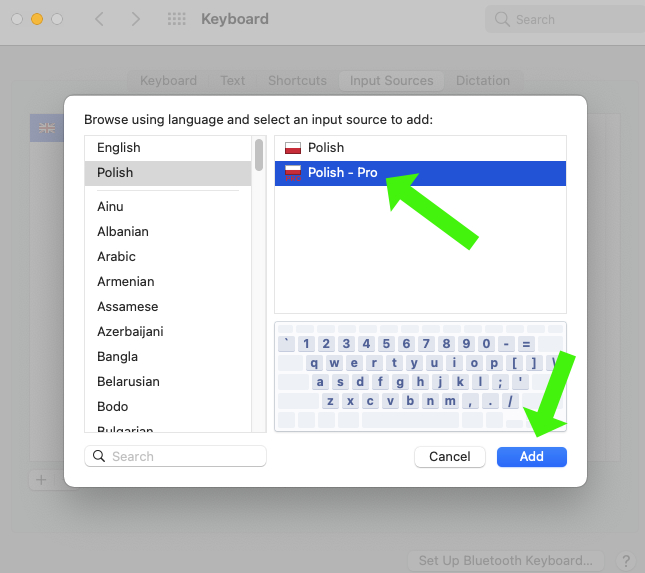 Once you install Polish, you should select it as well. If you want to switch between English and Polish, it is worth selecting checkbook Show Input menu in menu bar.
This will display small flag at the top of the menu on the right and by clicking it you will have access and will be able to change keyboards-languages:
Because I have some custom settings on my Mac, I am not sure how to make the Polish characters. After you have switch the keyboard to Polish, press Command key and one of the letters: a, z, c, s, o and see what happens. If it doesn't work, please try with Option key and the letter or Control key.
I hope this will help you, please feel to ask questions if something is not clear.
I will try to make a short video about installing Polish soon and post it here.
Your answer
Log in to answer the question